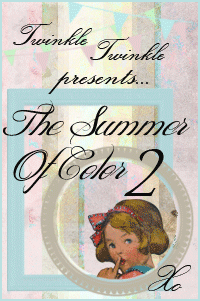 Whilst perusing my friend Carmen's fab blog (
whoopidooings
) I came across a post she did about The summer of colour 2! Now I've never heard of this but having read about it here and followed the links I have now decided that I will totally give this a go!!
You can find out all about it at
Twinkle Twinkle
but basically there will be a colour prompt each week and you make some art based on that colour and post it on your blog! I believe the colours will be based on ice cream flavours (yum I LOVE ice cream!). You can do any art form that you like, I'm hoping to mix it up a little and do a couple of different ones but who knows what will happen when I get going :-)
This weeks colour was RAINBOW SHERBET (seriously the picture of this ice cream looks so nice I could lick the screen ha ha). I'll be honest I didn't quite get my piece finished but I wanted to post it in time so I have taken a picture of the almost finished piece!!

You can't see the colours so well on this photo but this is the best natural light I could find (damn you rain!!)! I decided to do knitting for my first piece as i had the perfect wool and my friend is after a pair of baby booties so i can kill two birds with one stone :-P The one on the right hasn't be sewn together hence why it looks giant compared to the other one!! I love this wool as it is self striping! This has had an interesting effect on the booties.....each bootie is slightly different colours :-P I'm hoping this will be seen as quirky ha ha!!
I really can't wait to see what next weeks colour is :-D I also can't wait to look at everyone lovely RAINBOW SHERBET stuff!! Let's face it, with weather like this we deffo need a summer of colour!!!