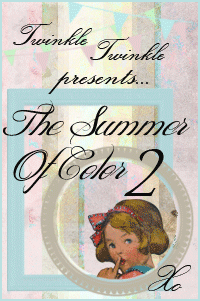 Hey everyone! So to week two of the
Summer Of Colour Challenge
! This weeks prompt was Mint Choc Chip (my fave flavour of ice cream might I add)! I must be honest I found this one very hard! I don't know if it was because I've been having one of THOSE weeks so my brain just wouldn't switch on!! Anyway I went literal with this one so I should introduce to you.......
Mr Cool Mint.
I used my pro markers to colour him in! I'm not sure I really like the blue background but it fits in with the Mr Cool Mint theme ha ha!! I've never done an ATC before and I found it hard to put any extra detail on him :-S All in all I like the idea but I think it could have been done a little better!! Also I think his choc chips look a bit like acne hahaha!!
Oh well I tried something new which was fun, and I will deffo be doing more ATC's in the future! So on to next weeks colour.....I can't wait to find out what it is!!
In other news, my lovely friend
Carmen
sent me a gift.....I will write a special post about that....but I just wanted to say thank you to her. We only "met" quite recently but I like to think we have become good friends :-)